Happy Birthday, HPL!

It's Lovecraft's birthday today. To be dreadfully honest, HPL was not the worlds' most gifted writer. His prose was turgid at times and prolix in a fashion that surprised even other hack writers who were being paid a penny a word. Probably made 'em all green with envy, too.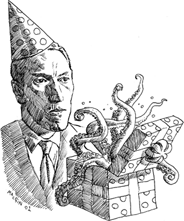 With that said, there's something about HPL. The man conveyed dread.. absolute, chin-quavering, what the hell is behind that crypt door DREAD. He was a master at describing emotions. And his ideas.. the sheer scope of them!.. I know of few writers in horror (and the borders of SF) that could occupy that space in their minds.

Happy Birthday to you,
Happy Birth-day to yewwwww
Your'e squamous and eldritch,
and tentacl-y tooo!


Happy Birthday, you great loony from Providence. Thanks for what you gave us.